West·Bond, Inc., a leading supplier of semiconductor interconnect equipment, announced today that it is relocating its corporate headquarters to a larger facility in Anaheim. The new headquarter will only be a mile-and-a-quarter away (North) from the current location.
Please note, as of January 23, 2006, West·Bond's new address will be:

West •Bond Inc.,
1551 South Harris Court,
Anaheim, CA 92806

All contact information will still be the same (phone and fax numbers, email, website, etc.), and only the street and zip code will be changed. This move allows the company to combine all three facilities into one. For those of you who have been to our factory in Anaheim, California, in the last twenty years, you may know that we had grown into three buildings; although they were just next door, it was still three separate buildings. Having one location with one building will be a great advantage to the company and to the consumers as well, and this allows the opportunity to grow and expand the company with more resources available. Everyone is encouraged to come in and visit the new facility and also, to learn more about the latest wire/die bonding solutions available to them using the latest technology.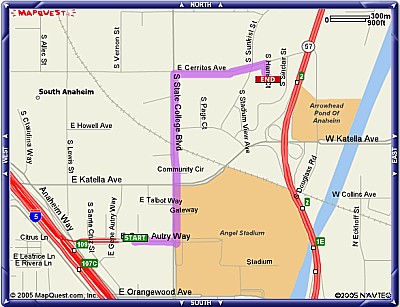 Driving Directions To West·Bond, Inc.


West·Bond Main Building



1551 S. Harris Court,

Anaheim, CA 92806
Phone: 714.978.1551

Fax: 714.978.0431
Products | News | Events | Support | Corporate | Contact Us | Universities | Home
Manual Die Bonders | Manual Wire Bonders | Semi-Automatic Wire Bonders | Automatic Wire Bonders | Pull Test Machines