Area Slice Gantry
February 8, 2000
An increasingly common application of wire bonding presents work pieces in one front-to-back row in carriers that move successive rows into position. The handling system that moves the rows might well pass them to tasks other than bonding, and so be rightfully in the realm of the customer's control. In an ideal case, we would bring the bonding function to that system from a remote overhead - an arrangement, we dubbed an "Area Slice Gantry".
West·Bond's new Model No. 1700E is exactly this machine. We move the bond head through an area 6 inches long by 1/2 inch wide, with the compact mechanism entirely above the work plane and controls remotely packaged. All bonding operation is fully programmed and positions are corrected by pattern recognition. Bonding method can be "Ball in the Corner" or Ball and Wedge, or Tab Bonding. ESD Protected.
Take a gander at the gantry -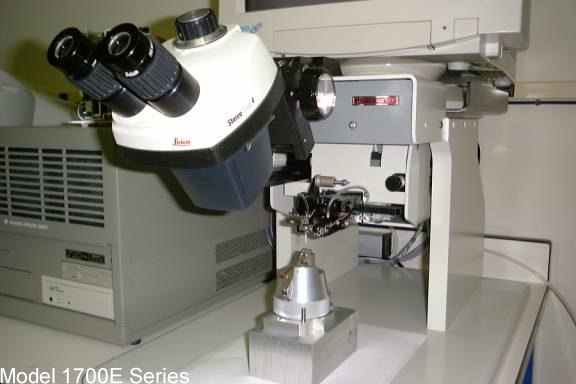 Yes, it's available now.
For machine specifications,
click here.


1551 S. Harris Court,

Anaheim, CA 92806
Phone: 714.978.1551

Fax: 714.978.0431
Products | News | Events | Support | Corporate | Contact Us | Universities | Home
Manual Die Bonders | Manual Wire Bonders | Semi-Automatic Wire Bonders | Automatic Wire Bonders | Pull Test Machines