September 26, 2001
West Bond's pioneering family of gantry-style large-area bonding machines has a new member, 3500E-Series. For applications of identical parallel wires -- such as, high frequency, high power semiconductor devices – this machine is specifically designed to perform programmed, pattern-recognition, automatic bonding efficiently. With work oriented front-to-back, the non-rotating bond head scans and bonds over its large travel area. Quality expectation is high with missing wire detection that functions without work contact, and with on-screen view of bond progress via a second camera. A universal heated workstation with drop-in adapter and with manual rotation to détente positions is offered as an accessory. Otherwise, this gantry machine can be brought intact to handling systems of customer's choosing.
This just may complete our new line of 3~00E-Series moving-head gantry machines. Or, if the terrorists leave us alone, maybe it won't.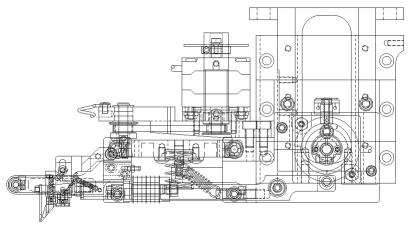 See new

Photos and Specifications for Model 3500E-Series.


1551 S. Harris Court,

Anaheim, CA 92806
Phone: 714.978.1551

Fax: 714.978.0431
Products | News | Events | Support | Corporate | Contact Us | Universities | Home
Manual Die Bonders | Manual Wire Bonders | Semi-Automatic Wire Bonders | Automatic Wire Bonders | Pull Test Machines


Copyright © 2010 West·Bond, Inc. All rights reserved.